Home > Model 125
Model 125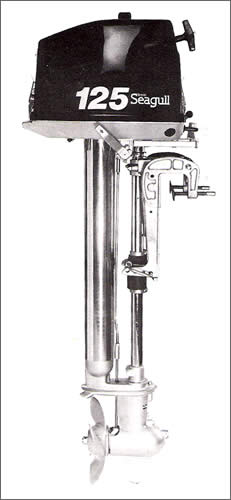 (Based on a 1980's brochure)

Following the success of the totally re-designed 170, we have added the 125 to the range. Again a blend of the best of Seagull incorporated into a totally new design, modern outboard.
An ideal engine for heavy work boats, fishing launches to around 18' and sailing cruisers around 22'. Incorporating all the well known features such as plain phosphor bronze bearings, marine grade cast iron cylinders and water jacket and case hardened nickel steel crank shaft. In short, all the things which make a Seagull last a lifetime.
Specifications:
General characteristics: Single cyclinder 4 port, 2 stroke water cooled. Loop Scavenged
Bore & stroke: 2.24 x 1.57 ins/ 57 x 40mm
Cubic capacity: 6.22 cu ins/ 102cc
Propeller thrust: 125 lbs (equiv. 6hp models)
Reduction gear ratio: 2.5-1 F.N. gears
Propeller: 4 blade anti-weed
Ignition: Breakerless capacitor discharge fully sealed and waterproof
Cooling: Water cooled by centrifugal impeller
Transom bracket: Clamp-on with patented reverse lock
Tank capacity: 6 gallon remote
Average fuel consumption 1/2 - 3/4 throttle: 3.5 pints/ 2 litres/ hour, US .255 gals
Maximum freeboard (top of stern to water line)
Standard shaft: 15 ins/ 381mm
Long shaft: 20 ins/ 508mm
Overall length
Standard shaft: 41 ins/ 1041mm
Long shaft: 47 ins/1168mm
Overal breadth: 13 ins/ 381mm
Overal depth: 16 ins/ 406mm
Dry weight (inc. bracket): 56 lbs/ 25kg